Some years ago (it was in 2000) when, guided only by our intuition-and we did not know of anything-we came to rest a few days to Los Canos de Meca. From the first moment, we both had the feeling of being in the place where we fit and where taking a stroll along the beach or lighthouse natural park, we dreamed to live here someday.
It seemed a very distant dream and we comforted thinking that, after a long time, maybe what we were getting. But when our vacation ended, we were sorry to leave all this and that was when we ask: why don't we come to live here now?
Since that time, we put all our effort and enthusiasm into getting what we wanted: we look for the most privileged and, the following year, we were in Los Canos building small houses – converted now in a beautiful complex of white and respectful architecture area, with handcrafted details – as a means to get 2 things: our dream to live happily in the place we had chosen and to offer them to those who also want to come to find the right environment in which to connect with their dreams.
Later, many things have occurred, the most important of which became part of our family our beloved daughter, who came to us from China to Los Canos. We have lived very happy here and although currently inhabit elsewhere, come whenever we can to our cottage of Dreamcatcher, which was the first one I come to live, before the others, and we have preserved and renovated with love. It is a place where we feel very attached and it is for us a very special energy, in addition to already many memories.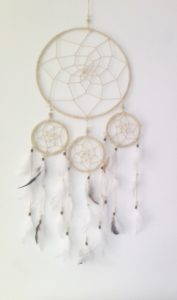 As for the name of  Dreamcatcher's House, the idea came from what this symbol is an object from the Native American culture that basically consists of a circle adorned with beautiful feathers and filled with a network whose purpose is to catch bad dreams and let it penetrate only good. The mothers hung above where their babies were sleeping to ward off nightmares and have happy dreams. In addition to this purpose, it is also believed that could be used as a spiritual gateway to the world of dreams and personal desires.
So, we hope that you find here the ideal place to recall your happiest dreams and start raising that can come true.
Ángel y Patty.